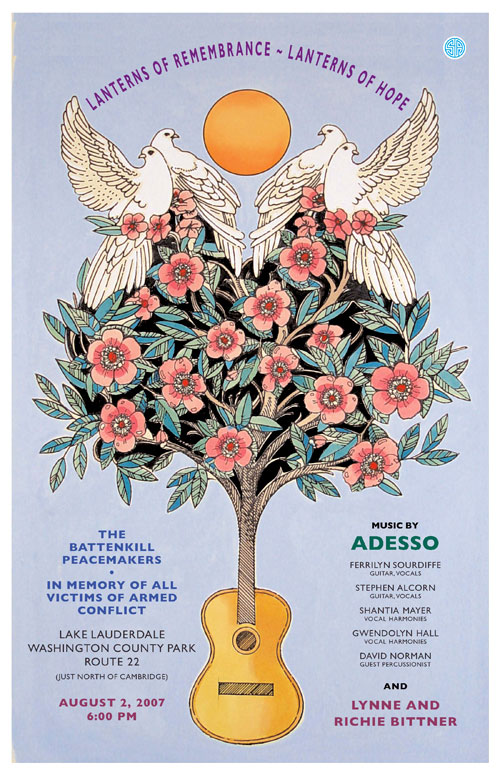 Lanterns of Remembrance - Lanterns of Hope
On Thursday, August 2, a fleet of lighted candle lanterns will set sail on Lake Lauderdale as a memorial to all victims of armed conflict. Every year since 1987, 100 or more community members have joined the Battenkill Peacemakers in the making and floating of the candle lanterns. In this, its 21st year, "Lanterns of Remembrance--Lanterns of Hope" again invites everyone to take part in this observance.
Participants will gather at 6:00 p.m. at Washington County Park for lantern making and a potluck supper in the picnic shelter. The program that follows will include music by Adesso members Ferrilyn Sourdiffe, Stephen Alcorn, and Shantia Mayer and by Lynne and Richie Bittner; group singing; and special readings. Members of the Mettawee River Theatre Company with flutist Bliss McIntosh will lead the lantern launch processional to the lake at dusk. In case of rain, an observance will be held in the picnic shelter.
Washington County Park at Lake Lauderdale is north of Cambridge, New York, on State Route 22. The park closes to entry after 8:00 p.m.
PERFORMANCES main page

ADESSO main page

MAIN CONTACT:
FERRILYN SOURDIFFE
Telephone: (518) 677-3418
18 Brown's Knoll Lane
Eagle Bridge, NY 12057
E-mail: dafe@capital.net
---
© The Alcorn Studio & Gallery
112 West Main Street
Cambridge, New York 12816
Tel: (518) 677-5798
E-mail: stephen.alcorn@verizon.net
http://www.alcorngallery.com


No part of this web site may be reproduced, in any form, by any means,
including mechanical, electronic, photocopying, or otherwise,
without prior written consent of Stephen and Sabina Fascione Alcorn.