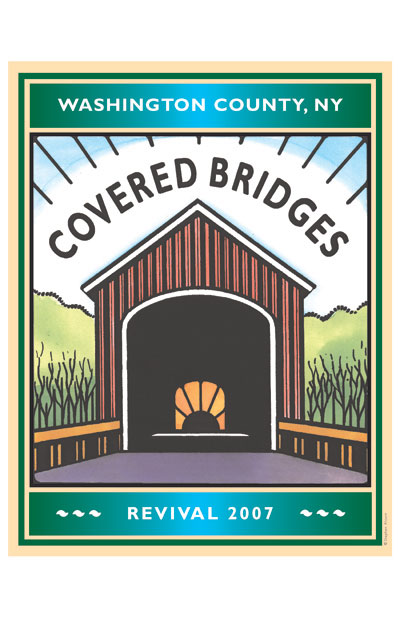 Covered Bridges Revival
Ribbon-Cutting Ceremony - 8.2.07
ADESSO performance: 2:30-3:30 pm
CAMBRIDGE, NY - New York State Senator Betty Little and Assemblyman Roy
McDonald will attend Covered Bridges Revival 2007, a ceremony to rededicate
Washington County's three covered bridges on August 4th. They will be
joined by Tracey Brooks from the office of US Senator Hillary Clinton, as
well as local dignitaries. The ceremony begins at 9:30 am at Buskirk's
Bridge with a performance of the Cambridge Band, a marching band established
in 1853.
The ceremony will be hosted by the Washington County Covered Bridge Advisory
Committee. The committee is made up of citizens who work with the County to
monitor and maintain these treasured landmarks. The committee helped apply
for and win federal funds to restore the bridges.
"We're very excited to have these representatives at the ceremony," said
Robbie McIntosh, president of the Washington County Covered Bridge Advisory
Committee. "This project was a joint effort of the county, the state and
the federal government and we're delighted they'll be here to celebrate with
us."
Following the ceremony at Buskirk's Bridge, there will be ribbon cuttings at
Eagleville Bridge at noon and Rexleigh Bridge at 1:30 pm. Participants will
proceed to each bridge on roads that were in use at the time the bridges
were built, winding their way through the hills and valleys of southern
Washington County. All participants of the Covered Bridge Tour will be
welcomed at the Historic Salem Courthouse at 2:30 pm for an afternoon
celebration.
The celebration includes refreshments, door prizes and covered bridge
artists. The acoustic group Adesso will perform guitar and vocal harmonies
in a mix of contemporary and traditional songs in English and Italian. A
souvenir book describing the history and rehabilitation of the bridges will
be for sale. At each bridge, volunteer docents will distribute a free
brochure with a ticket. Visitors who get their tickets stamped at three out
of four bridges will be eligible for door prizes at the Courthouse,
including a covered bridge coverlet designed by a local artist and a
commemorative covered bridge plate, among others. A commemorative T-shirt
and signed poster will be available for sale throughout the tour. The
design for the T-shirt and poster was generously donated by artist Stephen
Alcorn of Cambridge. The day concludes with a chamber music concert by
Music from Salem at 8:00 pm in historic Hubbard Hall. The program will
highlight composers of the period during which the bridges were built.
Support for Covered Bridges Revival 2007 comes from Alpine Construction,
Barton and Loguidice, Alan and Nancy Brown/Lewis Waite Farm, Creighton
Manning Engineering, Glens Falls National Bank, Highway Rehab Group, Laberge
Group, Barry M. McGehee, New York Covered Bridge Society, Ryan-Biggs
Associates PC, Wilbur Smith Associates, Towns & Villages of the Battenkill
Valley, Washington County Tourism Association and Wright Construction.
PERFORMANCES main page

ADESSO main page

MAIN CONTACT:
FERRILYN SOURDIFFE
Telephone: (518) 677-3418
18 Brown's Knoll Lane
Eagle Bridge, NY 12057
E-mail: dafe@capital.net
---
© The Alcorn Studio & Gallery
112 West Main Street
Cambridge, New York 12816
Tel: (518) 677-5798
E-mail: stephen.alcorn@verizon.net
http://www.alcorngallery.com


No part of this web site may be reproduced, in any form, by any means,
including mechanical, electronic, photocopying, or otherwise,
without prior written consent of Stephen and Sabina Fascione Alcorn.