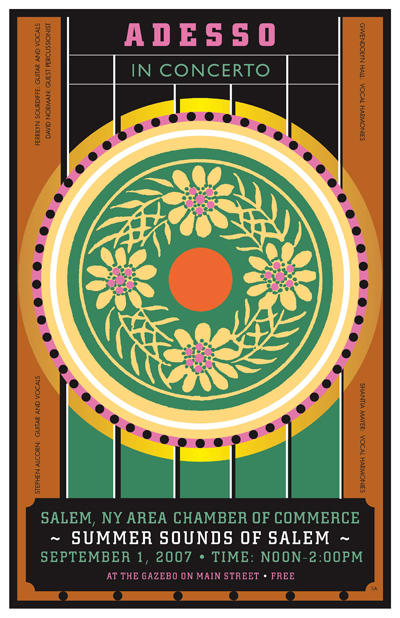 Summer Sounds of Salem • Salem, NY
Adesso will be closing this year's "Summer Sounds of Salem", a free outdoor concert series sponsored by the Salem, NY Area Chamber of Commerce. We will be at the gazebo on Main Street on Saturday, September 1st from 12-2 during the weekly Farmers Market. Bring a blanket and picnic if you wish. Food is also for sale. For additional information please call the Salem Area Chamber of Commerce at (518) 854-9296 or email admin@salemnychamber.com. This event is rain or shine.
Summer Sounds of Salem is supported by a number of area of businesses, including Glens Falls National Bank, Stewarts, Salem Auto Parts, Salem Hardware, Alan Brown Realty, Redgate Lodging, Salem Supermart, Quarry Ridge Alpacas, Garden Design, Fort Salem Theater, North Main Gallery and Attorney Don McPhee.
PERFORMANCES main page

ADESSO main page

MAIN CONTACT:
FERRILYN SOURDIFFE
Telephone: (518) 677-3418
18 Brown's Knoll Lane
Eagle Bridge, NY 12057
E-mail: dafe@capital.net
---
© The Alcorn Studio & Gallery
112 West Main Street
Cambridge, New York 12816
Tel: (518) 677-5798
E-mail: stephen.alcorn@verizon.net
http://www.alcorngallery.com


No part of this web site may be reproduced, in any form, by any means,
including mechanical, electronic, photocopying, or otherwise,
without prior written consent of Stephen and Sabina Fascione Alcorn.