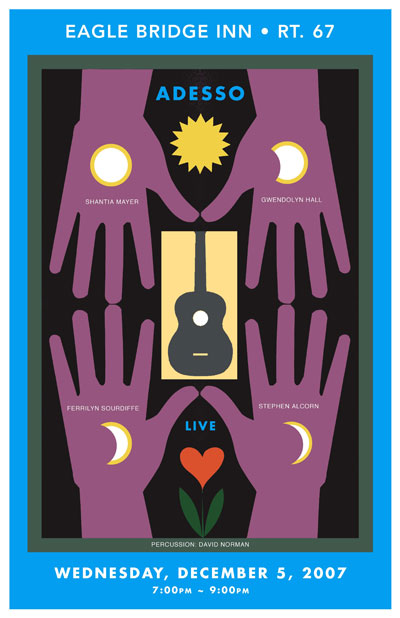 Eagle Bridge Inn
Adesso will be playing informally (and unplugged) at the Eagle Bridge Inn, in Eagle Bridge, NY (Rt. 67) on Wednesday, December 5th.
We'll be in the beautifully restored barroom where a light menu is served. Dinners are available in the dining rooms across the hall.
We'll start around 7.
The Inn was a popular local hang-out many years ago and has been lovingly restored and recently re-opened.
The phone number is 518-686-3500.
PERFORMANCES main page

ADESSO main page

MAIN CONTACT:
FERRILYN SOURDIFFE
Telephone: (518) 677-3418
18 Brown's Knoll Lane
Eagle Bridge, NY 12057
E-mail: dafe@capital.net
---
© The Alcorn Studio & Gallery
112 West Main Street
Cambridge, New York 12816
Tel: (518) 677-5798
E-mail: stephen.alcorn@verizon.net
http://www.alcorngallery.com


No part of this web site may be reproduced, in any form, by any means,
including mechanical, electronic, photocopying, or otherwise,
without prior written consent of Stephen and Sabina Fascione Alcorn.