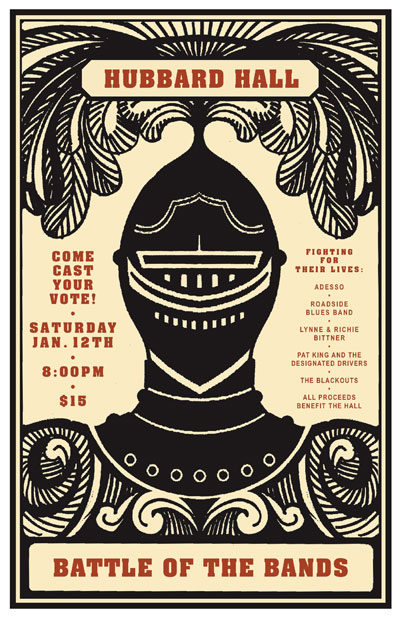 Hubbard Hall • Cambridge, NY
Adesso is participating in a "Battle of the Bands" Benefit for Hubbard Hall Projects on Saturday, January 12 at 8pm.
We will be one of five very diverse area groups to perform in a Round Robin along with Lynne and Richie Bittner,
Roadside Blues Band, The Blackouts, and Pat King and The Designated Drivers.
This evening promises a lot of humor and hilarity--come enjoy the fun and cast your vote!
Admission is $15 and includes "tasty treats" and 15 voting tickets.
Additional votes can be purchased for $1.00 apiece.
A cash bar will be available- must be over 21 to be admitted.
Hubbard Hall is at 25 E. Main Street in Cambridge, NY.
For more information, call Hubbard Hall at 518-677-2495 or visit their website at www.hubbardhall.org
PERFORMANCES main page

ADESSO main page

MAIN CONTACT:
FERRILYN SOURDIFFE
Telephone: (518) 677-3418
18 Brown's Knoll Lane
Eagle Bridge, NY 12057
E-mail: dafe@capital.net
---
© The Alcorn Studio & Gallery
112 West Main Street
Cambridge, New York 12816
Tel: (518) 677-5798
E-mail: stephen.alcorn@verizon.net
http://www.alcorngallery.com


No part of this web site may be reproduced, in any form, by any means,
including mechanical, electronic, photocopying, or otherwise,
without prior written consent of Stephen and Sabina Fascione Alcorn.