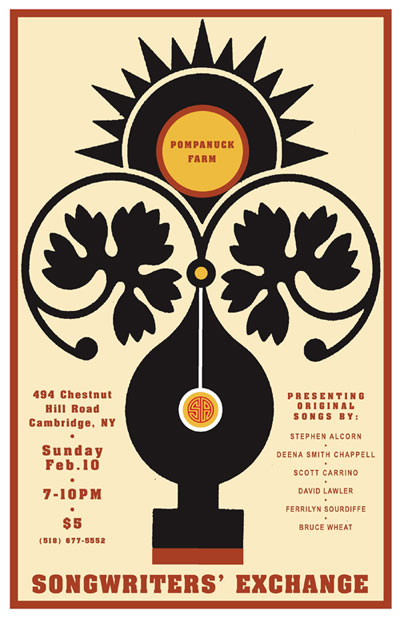 Songwriters' Exchange
Ferrilyn and Stephen will be performing their original material during an interactive evening of music and discussion at Pompanuck Farm in Cambridge, NY.
This new monthly series hosted by Scott Carrino and Ferrilyn Sourdiffe begins on Sunday, February 10, from 7 to 10pm.
The Exchanges will provide area singer/songwriters an opportunity to perform their original material and talk about the creative process with each other and an interactive audience.
Come and share in the creative process and hear live, original music from the some of our area's active singer/songwriters.
Other February 10 performers will be: Deena Smith Chappell, Bruce Wheat, David Lawlor and Scott Carrino.
Admission is $5. Desserts, coffee and tea will be available for sale.
.
Please visit www.pompanuck.org to see the schedule and for info and directions to Pompanuck 494 Chestnut Hill Road Cambridge, NY 12816 518.677.5552
PERFORMANCES main page

ADESSO main page

MAIN CONTACT:
FERRILYN SOURDIFFE
Telephone: (518) 677-3418
18 Brown's Knoll Lane
Eagle Bridge, NY 12057
E-mail: dafe@capital.net
---
© The Alcorn Studio & Gallery
112 West Main Street
Cambridge, New York 12816
Tel: (518) 677-5798
E-mail: stephen.alcorn@verizon.net
http://www.alcorngallery.com


No part of this web site may be reproduced, in any form, by any means,
including mechanical, electronic, photocopying, or otherwise,
without prior written consent of Stephen and Sabina Fascione Alcorn.