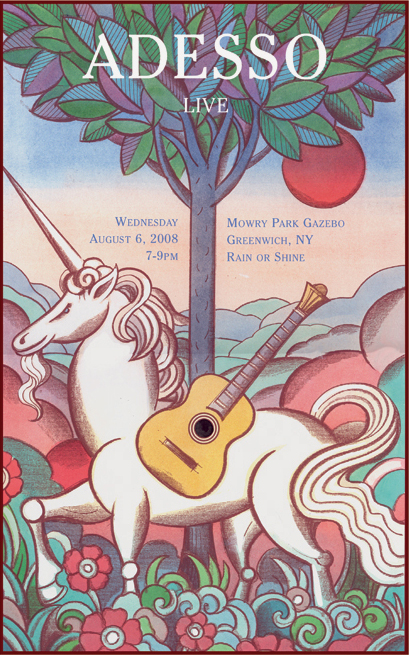 Mowry Park Gazebo; Greenwich, NY
Adesso will be in concert at the Mowry Park Gazebo in Greenwich, NY on Wednesday, August 6 from 7 to 9pm.
The gazebo is on Main Street in Greenwich. This free concert is sponsored by the Lions Club.
Bring a lawn chair or blanket. Rain or shine.
PERFORMANCES main page

ADESSO main page

MAIN CONTACT:
FERRILYN SOURDIFFE
Telephone: (518) 677-3418
18 Brown's Knoll Lane
Eagle Bridge, NY 12057
E-mail: dafe@capital.net
---
© The Alcorn Studio & Gallery
112 West Main Street
Cambridge, New York 12816
Tel: (518) 677-5798
E-mail: stephen.alcorn@verizon.net
http://www.alcorngallery.com


No part of this web site may be reproduced, in any form, by any means,
including mechanical, electronic, photocopying, or otherwise,
without prior written consent of Stephen and Sabina Fascione Alcorn.