ADESSO PROFILES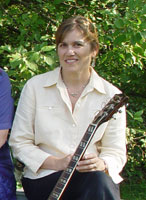 FERRILYN SOURDIFFE
Vocals, guitar, percussion
Ferrilyn began performing as a Bennington College student with the bluegrass trio Lyn Sourdiffe and the White Noise Boys while studying voice, piano, stringed instruments and music composition as well as printmaking, painting, ceramics and literature. After graduating with a BA in Visual Arts and Music, she began designing custom-made hand-hooked rugs for McAdoo Rugs in North Bennington, VT with a clientele list that includes President Bill Clinton, Michael J. Fox, Norman Lear and others. She also worked as a free-lance illustrator for Echoes magazine and other clients. While raising a family she began writing original material, performing informally.

Ferrilyn began performing regularly with the group Dafé Brudäjo in 1996 throughout the tri-state area, a group she still performs with on occasion, as well as various other groups from time to time, ranging from folk to jazz to rock and roll. She wrote and recorded the song ³Oh Alan² for Alan Chartock of WAMC (as well as a phone number jingle) as a contribution to help advertise upcoming fund-drives. Her recording of ³Wayfaring Stranger² has been heard on Wanda Fischer's Hudson River Sampler and she has also been heard live on WSPN's Sunday morning folk show Simpatico with Dafé Brudäjo. As with her work in the visual arts, Ferrilyn brings to music the love of carefully crafted lyrical arrangements.

Ferrilyn co-founded the group Adesso (formerly Cantaluna) with Stephen Alcorn in 2005. She lives in White Creek, NY with her husband and children.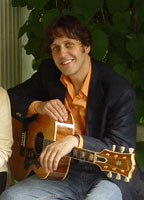 STEPHEN ALCORN
Vocals, lead guitar
Although born in the US, Stephen spent his formative years in Florence, Italy. It is there that he attended the fabled Istituto Statale d'Arte and met his future wife, botanical artist Sabina Fascione, a native of Pisa, Italy. He attended The Cooper Union and Purchase College, where he earned an MA degree in Fine Arts. He began playing guitar and composing songs as a teenager, but not until a generation later did he begin to routinely perform, having been driven, at an early age, to cultivate a distinguished career as a visual artist with an emphasis on printmaking, book design, illustration and portraiture. Now with his interest in performing and songwriting fervently rekindled, the last 8 years have seen Stephen performing on a weekly basis in coffee houses throughout the Albany region. In 2002 he co-founded, with Richard Barbierri, Cantaluna Duo; in 2005 he co-founded, with Ferrilyn Sourdiffe, the folk ensemble Adesso.

Stephen¹s activities as a musician inform his work as a visual artist, and vice versa. His passion for the History of Art and all things Italian permeate the romantic ballads he composes (in both English and Italian), while his interest in all things musical provided the genesis to his award-winning (and ever-growing) cycle of relief-block prints titled Modern Music Masters.

Stephen has illustrated several popular books, including Langston Hughes: An Illustrated Edition, which won the 1998 Carter G. Woodson Book Award; I, Too Sing America: Three Centuries of African American Poetry, which was selected as a Best Book for Young Adults by the American Library Association, and Let it Shine, a Coretta Scott King Honor Book. He is currently working on a picture book biography of folk legend Odetta, scheduled to be published by Scholastic, Inc. in the fall of 2008.

Stephen lives with his wife Sabina in an 18th century farmhouse in the heart of Cambridge, NY, surrounded by the pastoral farmland of the Cambridge Valley. An overview of his work may be viewed at www.alcorngallery.com.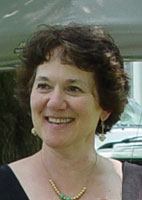 GWENDOLYN HALL
Harmony vocals, percussion
Music for Gwen has been as much a part of her upbringing as her Italian heritage. As a child she, along with her mother and six sisters could often be heard performing as "The Lemon Sisters" around their 1820's village home in Cambridge, NY.

Gwen began performing in summer stock musicals at the Fort Salem Theater as a high school student as well as many high school productions and was recognized as Best Vocalist in her senior year. She went on to land roles in musical theater productions while first attending Nazareth College and later, Russell Sage College where she received a BA in Creative Arts and Human Services.

Gwen continues to perform in a variety of vocal ensembles, singing alto as a member of the highly regarded Battenkill Chorale for the past six years and participating in their semi-annual performances in upstate New York. In addition to the Italian songs she sings with Adesso, Gwen has performed in German, Russian, Greek and Latin.

Gwen has been heard at various Open Mic nights in the area and has sung harmony for The Cambridge Cavaliers as well as other local groups and is a cantor at the church she attends. In 2005 she began singing harmony with Adesso. Gwen resides with her husband in Johnsonville, NY.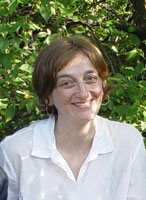 SHANTIA MAYER
Harmony vocals, percussion
Born in Germany, Shanti spent many hours as a baby sitting contentedly on a blanket, mesmerized by the sound of her mother's singing as she rehearsed for Der Tubinger Kantaten Chor. She moved to the US at age two and as a young child began creating harmonies to heard melodies and melodies to harmonies as well. Inspired by learning Scott Joplin's rags on the piano, she wrote her first composition entitled The Clown Song at age nine.

In high school, feeling the absence of a chorus, she formed one herself. She sang in the musical production Flower Drum Song as well as playing viola in the All-State and All-New England Festival Orchestras.

Shanti departed high school a year early for Simon's Rock College at Bard where she studied music theory, sang in the choir and choreographed and performed dance pieces. She spent the following summer at the American Dance Festival at Duke University.

A graduate of the Theatre and Drama Department at the University of Michigan, she also auditioned for and participated in the Dance and Music departments there.

Fluent in German, Shanti joined the Brecht Company of Ann Arbor where she assisted in the translation of The Threepenny Opera. Playing the role of Jenny Diver she had the pleasure of singing such Kurt Weil classics as The Solomon Song and Die Zuhälterballade.

In addition to singing with Adesso, Shanti sings and plays keyboard with the ten-piece rock, blues and jazz band The Prescription. She has performed and recorded with Bob Warren and the Mallory O'Donnell Band, Dafé Brudäjo and on Ferrilyn's recording of Oh Alan. Shanti has performed and composed for the Zambezi Marimba Band of Williams College and has sung with the Williams Choral Society.

Among her more eclectic experiences, she has played in a Balinese Gamelon, sung North Indian Ragas and finished in the top seven in Chicago auditions for Barnum and Bailey Circus. Shanti resides in North Bennington, VT.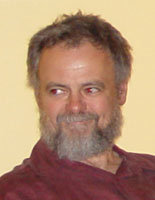 DAVID NORMAN - GUEST PERCUSSIONIST
Born in Bronxville, NY, David has felt the pulse of rhythm for as long as he's been able to tap his toes. Despite his teachers admonitions to refrain from tapping on his desk so much, percussion continues to be an integral part of his life. He has played percussion- from drum kits to hand drums (to his dashboard)- with various groups over the years, ranging from jazz to folk to rock and roll and various ethnic styles. He was the drummer for the very popular Cambridge, NY-based band The Mambo Combo, as well as a member of the African-drum group Konundrum. He plays percussion for Dafé Brudäjo as well as Adesso (for whom he also runs sound) and several different jazz and rock combos at Bennington College. David lives in White Creek, NY with his wife Ferrilyn and their children.